Original BEAVER Glove 'Black'
Engineered in Germany: with the original BEAVER Gloves from BEAVER GOLF, you can enjoy maximum comfort while wearing a fashionable must-have.
Quality meets minimalist style: our original BEAVER Glove improves your feel for your game to the max and gives an excellent grip. Developed in line with our customers' desires and professional expertise: we offer one of the best golfing gloves on the market! It fits like a second skin and adapts perfectly to the shape of your hand, giving your maximum freedom of movement. Breathable and hand-made from high-quality premium cabretta leather in AAA quality, it can also be worn as a stylish accessory. Whether you prefer timeless brown, elegant white, or playful pink, the "original BEAVER glove" is the perfect golfing glove for on-trend soul-golfers. Everyone who appreciates the value of products that are "engineered in Germany" will love this lab-tested glove. Sustainable and fair, free from plastic and harmful substances: our branded products are packaged in recycled paper, ensuring a very small ecological footprint. Trust the choice of the professionals and tour players and grab a pair of BEAVER gloves (individual sizes will be delivered with embossed logo).
Material: Premium AAA cabretta leather
Natural rubber logo

Minimalist design
Free from plastic and harmful substances
Breathable ventilation betweeen and on the fingers
Engineered in Germany
Excellent value for money
Envionmentally friendly packaging
Perfect fit and exceptional comfort
Ref.
Men
Ladies
S
M
ML
L
XL
XXL
S
M
L
A
21,8
22,4
23,0
23,6
24,2
24,8
20,3
20,9
21,5
B
9,3
9,6
9,9
10,2
10,5
10,8
7,9
8,2
8,5
C
7,2
7,4
7,8
8,0
8,2
8,4
6,8
7,0
7,2
D
8,6
8,8
9,0
9,2
9,4
9,6
8,1
8,3
8,5
E
8,8
9,0
9,2
9,4
9,6
9,8
8,2
8,4
8,6
F
5,9
6,1
6,3
6,5
6,7
6,9
5,5
5,7
5,9
G
6,7
7,0
7,3
7,6
7,9
8,1
6,3
6,5
6,7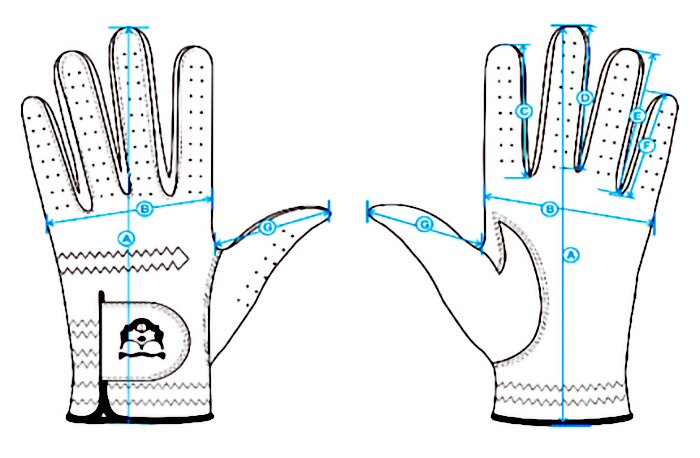 ---
Our products are also available here